Payment Methods
Check
Make checks payable to: Greenway Parc at Surprise 2

Mail to: Greenway Parc at Surprise 2
7255 E. Hampton Ave. #101 Mesa, AZ 85209
Online Bill Pay
Schedule payments through your personal bank's Online Bill Pay.

Payment address: Greenway Parc at Surprise 2
7255 E. Hampton Ave. #101 Mesa, AZ 85209
Online Payments with Bank Account or Credit Card
Visit CIT (Mutual of Omaha) bank's payment website to make payments online.
Account Setup Information
You will need the following information to set up your account:
Management Company ID: 1008
Association ID: GPS
Account Number: (see below)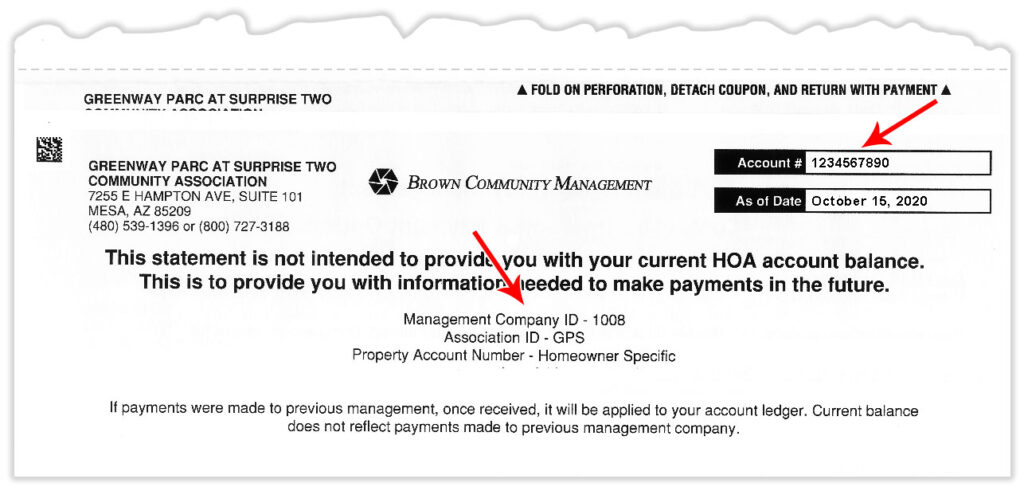 Your Property or Account number is set of digits that can be located
on the right side in the top box of your payment remittance
coupon or statement, highlighted in the image.
Monthly Assessments
Your current monthly assessment is $67.00.
In order to provide our homeowners with the most amount
of time to pay their assessment, a statement will be mailed
approximately 30 days prior to the due date.

If you would like to receive your statement via email rather
than mail, you can sign up to receive paperless statements.
Information on where to sign up is located on the bottom
left hand corner of the statement.